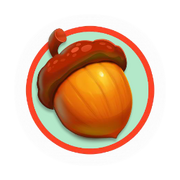 Nut is one of the elements of Farm Heroes Super Saga.
How to collect
Edit
Create matches that move the nut towards the squirrel. Once the nut is adjacent to the squirrel, it will swipes its tail and collect it.
If the player makes super cropsie or matches 30 cropsies right next to the squirrel, then it will collect nuts in 5x5 squares.
This section is empty or incomplete.
You can help by adding to it.