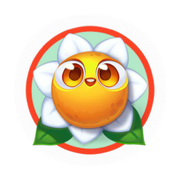 Flower is one of the elements of Farm Heroes Super Saga. It go through 3 stages.
How to make it work
Edit
Like in Farm Heroes Saga, Flower is a special goal that need to be fully bloomed to collect. To do this, the player must create 3 matches alongside of it.
However, the main difference in this version is the ability for different stages of Flowers to appear in a stage for collection.