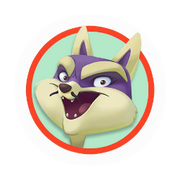 One of the great new features in Farm Heroes Super Saga is the brand new Boss mode! Rancid can show up at random and make levels harder by throwing garbage onto the board. To get rid of Rancid, create matches next to the garbage to throw it at him. Eventually he will become dazed and run off to lick his wounds!
In boss mode, there are two elements:
Properties
Edit
It appears random level nearby where the player currently on.
The player can defeat Rancid by throwing garbage 10 times.
If Rancid throws garbage cans to make no more possible switches, the player will lose the level without shuffling and Rancid will run away if the player quits the level.
When Rancid is defeated, the player will receive 50 sprouts and 50 coins, regardless the completion of level.
Unlike Farm Heroes Saga that Rancid level type is on specific levels and they always stay same levels, level with this feature in Farm Heroes Super Saga is changed per day.